The reason behind it is SO Mina!
Many ONCEs relate to TWICE's Mina for being a quiet introvert, and she recently revealed another habit of hers that's made her even more relatable!
Mina | @twicetagram/Instagram
Mina recently sat down for an interview with Vogue Girl Japan, where she talked about her favorite hairstyles, hobbies, and more!
| Vogue Girl Japan
One of the questions she was asked was,
"What items are a must-have in your bag?"
Mina revealed that she carries two sets of earphones; one for watching movies and one for listening to music!
I have two sets of earphones for listening to music and watching movies. When I use the one with better quality to watch a movie, there's a bit of a delay. —Mina
| @twicetagram/Instagram
She then revealed that she also keeps wired earphones with her, because she can use it to ward people off when she needs to focus and be alone with her thoughts!
I also keep a set of wired earphones with me. When I'm among people and I want to focus, I put these on. It gives off a vibe that says, 'I'm trying to stay focused right now.' —Mina
Mina's so relatable!
Source: Koreaboo
Brave Girls Fan Criticizes Quality Of Album Photocard After Receiving One With Photographer's Shadow On It
One of Brave Girls' new photocards is facing criticism from netizens.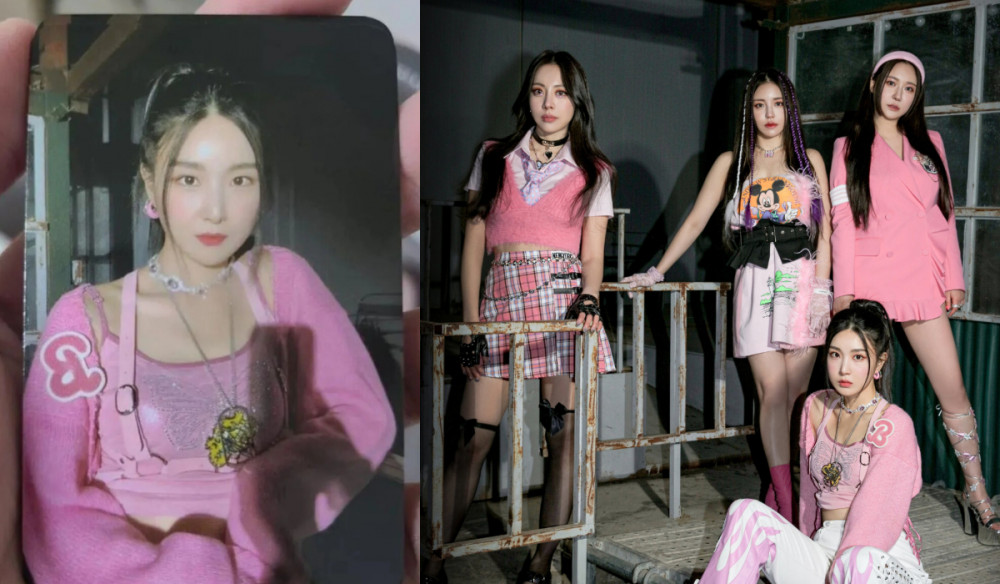 On April 4 KST, a Brave Girls fan took to an online community to share the photocard they received, titling the post, "An idol photocard with something unique."
In the image, a hand is seen holding a photocard of member Yuna in a pink harness and cardigan look with some kitsch accessorizing. The photocard became an issue as it was made with the shadow of the person taking Yuna's picture being extremely visible.
"They made this with the shadow of the person who took the photo included," the netizen wrote, adding that the photocard was even supposed to be considered a 'special promotional photocard.'
Netizens who responded to the fan's post left comments like, "How much does the special album cost for the quality to be this bad" and "[The photo was] even taken with a phone."
Meanwhile, this is not the first time that Brave Girls' fans have spoken up about the poor quality of the group's merchandise. After the success of their single "Rollin," Brave Entertainment sold the group's first official merchandise. However, fans reacted negatively to the poor quality, especially in merchandise that included photos, and said the quality was well below expectations considering the price.
Source: Allkpop